Imagine this. You join a new organisation with a bunch of people who have been working together for a few years now. Not only have they been working together for a while, but they have been working in an office and seeing each other 5 times a week. But, in the new world, the organisation has realised they have better talent options if they allow people to work remotely from all over the world! So, you won't be working in the office, but you're still excited about the opportunity and can't wait to meet everyone virtually! A week in, you feel isolated at meetings, haven't met everyone yet and don't feel like you 'belong'.
In the last five years, the number of employees working in a remote capacity has grown by 44%.
In an office scenario, they could have hopped over to a co-worker and introduced themselves, asked for some help or just had a chat at the water-cooler! They would also have had an in-person onboarding experience helping them to build an emotional connection with the new team.
Virtual onboarding is no easy task, but with 69% of employees saying if they experience great onboarding, they are more likely to stay with a company for three years, the onboarding process requires preparation and attention.
Here are a few tips for virtual onboarding:
All virtual employees should still have the First Day in the office (just virtually!) A 'welcome' swag bag of branded merchandise is an excellent way for people to feel thought about and connected. A personalised note from the CEO displaying genuine enthusiasm helps them get excited about their role and impact on the company's vision. It also helps to reinforce the organisations brand and, if you're lucky, it may also bring a buzz to LinkedIn with employees sharing the swag!
Meet The Team! You would typically be shown around on the first day in the office, meet the team, stakeholders, and be shown fire exits, etc. Well, one good thing is that you can skip the boring stuff and instead go straight to meeting the team! Set up a simple video call to welcome the newest team member, have the whole team on it and get them to introduce themselves. It doesn't need to be overly formal either – show some personality! This helps put faces to names and is a great way to start building relationships.
Top Tip: If you have any other remote workers living in the same area as your new employee, help to set up a lunch meeting!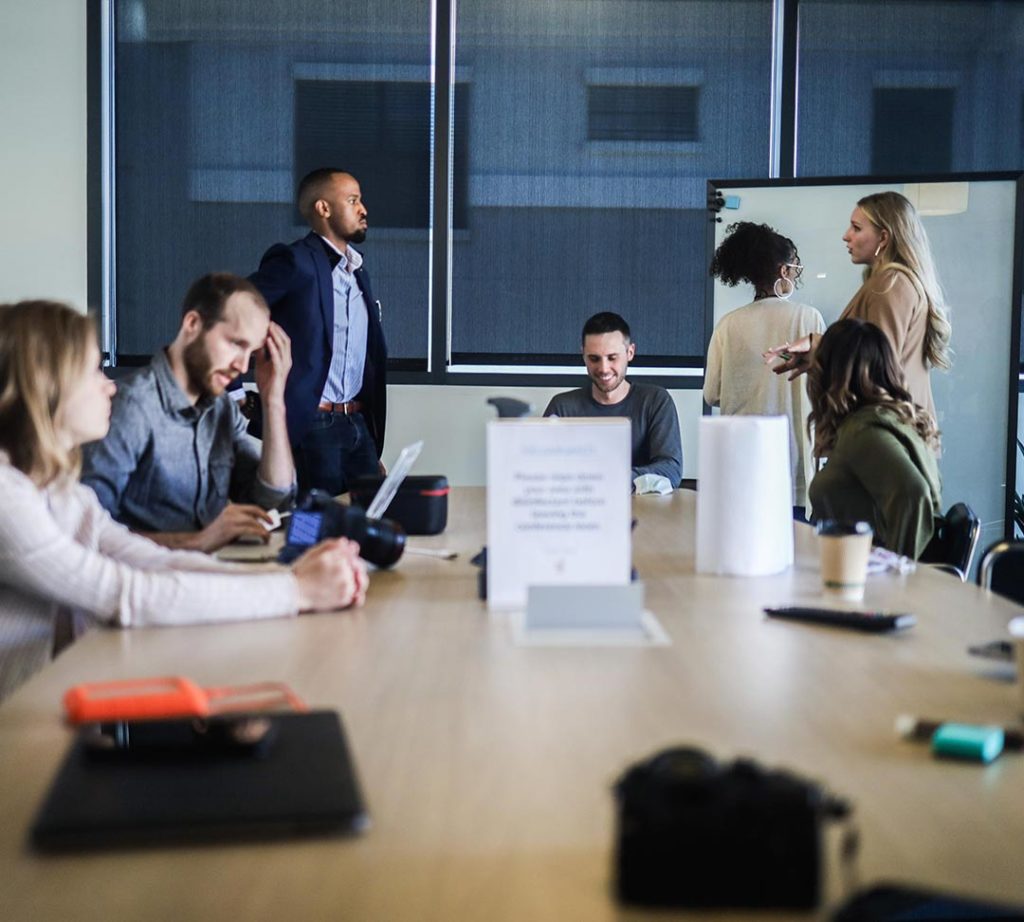 Everyone needs a buddy… A team member helping your new employee understand the team dynamics, company roadmap, and culture will go a long way. The mentor will also be the go-to person for any questions, which will save them wondering who is the right person to ask.
Don't forget those frequent check-ins. Out of sight, out of mind doesn't work with virtual onboarding! If anything, check-ins should be even more critical, and we highly recommend that you have weekly one-to-ones. It gives the employee a chance to ask questions and seek feedback. It also lets you make sure the employee is on track, has clarity on their role and feels like they belong.
Top Tip: Ask employees to turn their video on when doing virtual meetings. It makes the meeting feel friendlier and more personal.
If hybrid working is about to become the new normal, organisations need to look at their processes and understand how to make them more 'human' and supportive. Creating bonds at work is crucial in making employees feel more engaged, productive and loyal to the employer.